Welcome all PROW 100 students! I hope your new academic year is off to a great start and I wish you all the best for the coming term.
Today we will go over a few introductory issues. I'll tell you a bit about:
Attendance and E-mails
Introduction
Activity
Diagnostic (don't worry, this is for instructional purposes only)

Syllabus
Blog Expectations and How-To's
Explanation of Blog Term Project
Parts of Speech Group Work
Homework
REQUIRED COURSE TEXTS: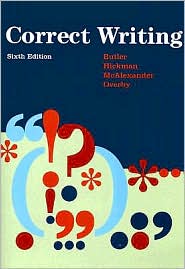 Eugenia Butler et al., Correct Writing, 6th edition (Lexington: DC Heath, 1997).
Gary Goshgarian, Exploring Language, 12th edition
(New York: Longman, 2007).
I also recommend that you purchase a good-quality dictionary, such as the
Canadian Oxford Dictionary
or
Gage Canadian Dictionary
.
**** FOR NEXT CLASS ****
For Next Class: Read "Chapter 1, The Parts of Speech" in
Correct Writing
Prepare for Parts of Speech Quiz
NOTE: We will be in the computer lab: Mac Lab 406